Now if there is something we love more than exploring a new country or a city, it's exploring the place in a car. The ecstatic feeling of setting off on a road trip to discover a hidden corner or an offbeat gem is second to none. When I'm behind the wheel, I feel free. I feel liberated. I feel alive.
Over the last decade, we have driven over 100,000 miles in more than 20 countries. Since the early days of Bruised Passports, road trips have featured frequently on the website. Everyone asks us about our favourite road trips in the world, but it's not easy to choose one. Driving in different countries offers such varied and contrasting experiences that trying to choose our favourite drive is the most difficult thing to do.
Instead, we compiled a list of our favourite road trips in the world. This list showcases our favourite driving experiences from around the world. What's more, we  have included the highlights of each of these experiences. A word of caution: all these road trips will give you exceptional photography opportunities and if you haven't been to these places yet, a slight to heavy dose of envy 😉
So in no particular order of preference, here are the best roadtrips in the world according to us:
1) Iceland: Volcanoes, glaciers, and panoramas
Highlights: Nature, Adventure
Now, we don't like playing favourites. But our road trip in Iceland ranks in the top 3 travel experiences of our lives. Driving through Iceland is like sitting behind the wheel and watching a National Geographic documentary unfold in front of your eyes. Nature puts on a spectacular show at every corner – gorgeous waterfalls, stunning panoramas, naturally erupting geysers, and rare wildlife – there's something for every nature lover out there. And if climbing ice walls, hiking volcanoes, and exploring underground lava caves is what gets you going, you're in for a treat in Iceland 🙂
Read and enjoy the visual treat: An Epic Iceland Road Trip
2) Croatia: Taking you back in time
Highlights: History, Nature, Beaches
The drive from Zagreb in the north to Dubrovnik in the south was one of our first road trips in Europe. We were a bit apprehensive, especially because not much had been written about this itinerary. The moment we stepped foot in Zagreb, all our doubts and fears were put to rest. We had such an amazing time driving through fairy-tale villages, stunning emerald lakes, and untouched natural beauty that we rate Croatia as one of the prettiest countries in Europe. From the war torn walls of Dubrovnik to the pristine waterfalls in Plitvice National Park, Croatia charms everyone who visits. The proverbial icing on the cake: the spectactular coastal drive from Split to Dubrovnik.
Read and see for yourself: A drive down history in Croatia
3) South Africa: The perfect mix
Highlights: Wildlife, Nature, Culture, Wine, Beaches, Adventure
If there was ONLY 1 road trip you could take in your life, let it be South Africa. Driving over 4000 kms from Johannesburg to Cape Town, we encountered pretty much everything a traveller and a photographer could ask for – wildlife, beaches, gorgeous drives, wineries, friendly people, colourful towns – you name it, South Africa has it. This is also a great trip to take with friends, as we did. Sid (Savi's brother) flew in to Johannesburg from Delhi and the two of us flew in from London – what ensued for the next 3 weeks was absolute madness. We fell in love with South Africa and can't wait to return.
Read about all the madness: Roadtrippin' South Africa
4) Baltics: The Pleasant Surprise
Highlights: Fairy-tale towns, History, Food, Nature
Now this is one road trip that you will not find in many of the "top road trips" lists out there. Having explored this part of Europe, we think that more and more people must drive through the countries of Estonia, Latvia, and Lithuania. The drives might not be as spectacular as in New Zealand or Ladakh but the culture, history, and people in these countries made our trip memorable. Driving in the Baltics is akin to travelling in a time machine – from medieval forts to alleys drenched in history, you'll love the charm in these countries. The fairy-tale cities of Tallinn and Riga are perfect for an introduction to the culture of this region.
Read and get transported back in time: Baltics Road Trip
5) Mexico: Of coloured lagoons and handsome flamingoes
Highlights: Nature, Beaches, Food, Culture
Turquoise beaches – Check. Fun loving locals – Check. Scrumptious food – Check. What more could someone ask for? Well, how about a generous dose of flamingoes and coloured lakes hidden in a quaint village in the Yucatan peninsula? Although the drive wasn't as spectacular as the destination itself, we're so glad we rented a car to explore this part of Mexico. From the beautiful sandy beaches of Playa Del Carmen to the gorgeous architecture in Merida, we loved every single minute of our stay in Mexico.
Read and get tempted: A road trip in Mexico
6) New Zealand: For nature and coffee lovers
Highlights: Nature, Adventure, Coffee
Truth be told, we had gotten sick of everyone telling us to go to New Zealand for there was no other place on this planet with panoramas as beautiful as they were in the land of kiwis. So in early 2016, we bit the bullet, and flew half way across the world to drive from the North Island to South Island. While there's no doubt that New Zealand has some of the prettiest  landscapes in the world, we wouldn't go as far as saying they are unparalleled. What we did love about New Zealand was the variety it offered – from beautiful beaches of the Coromandel coast and hot springs of Rotorua in the North Island to the postcard-like stunning panoramas in the South Island – there's plenty for nature lovers. If you love coffee as much as I do, you are in for a treat. One statement we can make with conviction – New Zealand has the BEST coffee in the world. Le Sigh!
Read and get awestruck: An epic road trip in New Zealand
7) Australia: The Great Ocean Road
Highlights: Wildlife, Beaches, Food, Hiking
This is one drive you'd always find mentioned in all magazines, and for good reason. The famed 243 kilometre long stretch of road in the state of Victoria impresses visitors with gorgeous views of the ocean. Meandering along the coast, the Great Ocean Road takes you through gorgeous vistas and adorable wildlife that includes Koalas and Kangaroos. When we visited this part of the world, we went a step further and bush-walked the Great Ocean Walk in addition to driving – something that we highly recommend to everyone who decides to drive in Australia.
Read about our 80 km hike along the Great Ocean Road: Hiking and driving the Great Ocean Road
8) Leh Ladakh: An unforgettable road trip in India
Highlights: Culture, Adventure, Nature
When it comes to dramatic landscapes and gorgeous panoramas, Ladakh is up there with the best. This almost hidden region in the northernmost state of Kashmir is not easy to get to, especially if you're driving. But that is the charm of the trip – when you make your way to Ladakh, you live and breath the true India along the way. Tiny villages, the friendliest of locals, and stunning (albeit slightly dangerous) drives make this road trip one of the most memorable experiences of our lives. Driving at heights of almost 18,000 feet is no mean feat, but we're glad we did, for Ladakh will live forever in hearts 🙂
Read and get mesmerised: Driving to Leh Ladakh .
9) Spain: For fiestas and siestas
Highlights: Fiestas, Culture, Food, Beaches
The mere mention of Spain conjures up images of being sat on a gorgeous beach sipping on delicious sangria or feasting on mouthwatering tapas while being hypnotised by the smooth moves of flamenco dancers. According to us, the best time to drive across Spain is the month of August when fiestas (festivals) are commonplace in different cities across the country. From Feria De Malaga in the south to The Tomatina festival in Bunol, we participated in a lot of madness as we drove from Malaga all the way to Costa Brava via Granada, Valencia, and Barcelona.
Read about the festivities: A Spanish road trip with a dollop of CRAZY
10) Costa Rica: A bird lover's haven
Highlights: Wildlife, Nature, Coffee
Costa Rica is truly a nature lover's delight – from lush green rainforests to thousands of species of flora and fauna – greenery is all you see wherever you look. Another thing Costa Rica is famous for is its coffee. I had a great time learning more about coffee roasting and tasting (like there was ever room for more there ;-)) while Savi enjoyed sipping on delicious coffee while gazing out to the rainforests and volcanoes in the distance. When you've had enough of nature, head to the Papagayo peninsula tucked away in the North West of the country. This place is a perfect haven to enjoy a few days of downtime spent relaxing by the beach. The drives are not the most spectacular, but the destinations sure are. However do beware Costa Rica is quite expensive for what it offers and this can make it a tad underwhelming at times.
Read and decide for yourselves: A rendezvous with Costa Rica
11) California & Nevada: Where the sun never stops shining
Highlights: Nature, Beaches, Food, Glamour
After almost a decade of travelling, we finally made our way to California in 2016. Given our fondness for road trips, we decided to drive down the Pacific Coast Highway from San Francisco to Los Angeles and made our way inland into Death Valley National Park and ended our trip in Las Vegas, the mecca of hedonism 🙂 Driving along the coast in California was amazing – a stunning coastline, delicious food, super-friendly people, and abundance of natural beauty and wildlife – what's there not to like?. Add to that the glamour and glitz of Los Angeles and you're all set for a well-rounded holiday. Ending our 4 month long trip in North America in decadent luxury at Las Vegas was the best way we could have done it.
Read and get transported: A road trip in Sunny California
12) Northern Ireland: Driving through a fairy-tale land
Highlights: Nature, Adventure, Whiskey
Right after we moved to London, we decided to do a short road trip in Northern Ireland. This was much before Game Of Thrones sent popularity levels of this wee corner of United Kingdom off the roof. What we saw was a land full of lush forests, coastal drives straight out of a Nat Geo documentary, and experiences that we still reminisce about fondly. From the adrenalin rush of crossing the Carrick-A-Rede rope bridge to the wonder of witnessing Giant's Causeway up close, our road trip in Northern Ireland was akin to driving through an enchanted land. At every corner we could imagine goblins, pixies, and elves jumping out to surprise us – we kid you not 🙂
Read and get transported to enchanted woods: Driving to Giant's Causeway
13) Bavaria: The lesser known side of the Alps
Highlights: Hiking, Castles, Lakes, Beer
The German Alpine Road (Deutsch Alpenstrasse) is undoubtedly one of the most gorgeous stretches of road to drive on. Not just that, the villages, sites, and sights that one drives past on this road trip simply belong in a fairy tale. A lot of tourists make their way to the Swiss Alps, but we strongly recommend everyone to head to Bavaria instead – it's much cheaper, has stunning vistas, plenty of mountain ranges to hike on, and the best beer in the world, period. Our favourite experience from this road trip was visiting the Neuschwanstein Castle, the villages of Ettal and Oberamagau, and hundreds of emerald green lakes along the way. Don't believe us? Have a look for yourself:
Read about our Bavarian adventure: A road trip in Germany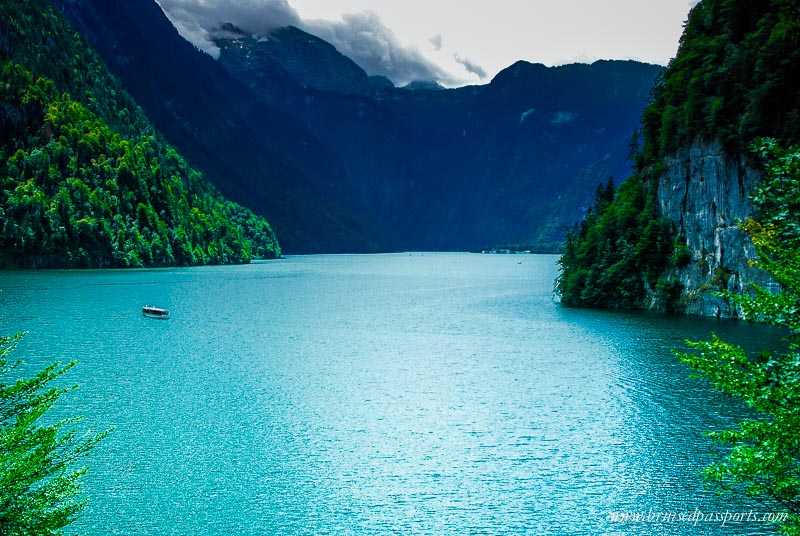 14) Alberta, Canada: Welcome to a picture postcard
Highlights: Nature, Hiking, Wildlife, Glaciers
The best for the last? Ummm perhaps 🙂 If you wanted to visit a place just for the landscapes and panoramas, we'd suggest Banff and Jasper national parks in the Canadian state of Alberta in a heartbeat. If you happen to be here in the month of August, which is when we visited, you can expect a photograph worthy scene at every kilometre of this road trip. Driving from Banff to Jasper on the Icefields Parkway (Highway 93) is a dream for every road trip lover. We loved Lake Moraine so much that we went back thrice over a course of three days to photograph it at different times of the day :-). Grizzlies can be spotted along the highway and there are countless opportunities to just stop and picnic by gorgeous lakes or go for hikes on mountains covered by carpets of beautiful flowers.
Read, rather see the gorgeousness: Driving in Canadian Rockies
That's it – a list of our favourite road trips from around the world. I'm sure we'll add a few more to these in the coming years, but if you have some favourites, go on and tell us about those in the comments below 🙂