No sooner have the words 'holiday in the Alps' left your lips than the word 'Switzerland' comes up. For years, holidays in the Alps have been synonymous with the Swiss Alps. Now don't get us wrong – we have nothing against Switzerland. In fact, we bloomin' love it. But it can get expensive – we're talking £100-for-a-casual-meal expensive. Unsurprisingly then, budgeting for a long road trip around Switzerland is enough to send anyone into a tizzy. Enter a road trip in Germany.
What if we tell you there is a section of the Alps that is equally pretty, much less crowded, not touristy, and much much cheaper? Nope, it's not a figment of our imagination – it actually exists!! Welcome to the Deutsche Alpenstrasse (The German Alpine Road). This majestic road passes through picturesque rolling hills, Alpine meadows, quaint villages, gnarled forests, ice caves, enchanting lakes, fairy-tale castles, and more beer gardens than you could possibly count 🙂
This road trip through the Bavarian region in Germany features spectacular scenery that will leave you spell bound and gasping for words. Read the descriptions of the places below – this is a road trip you will want to go on asap 🙂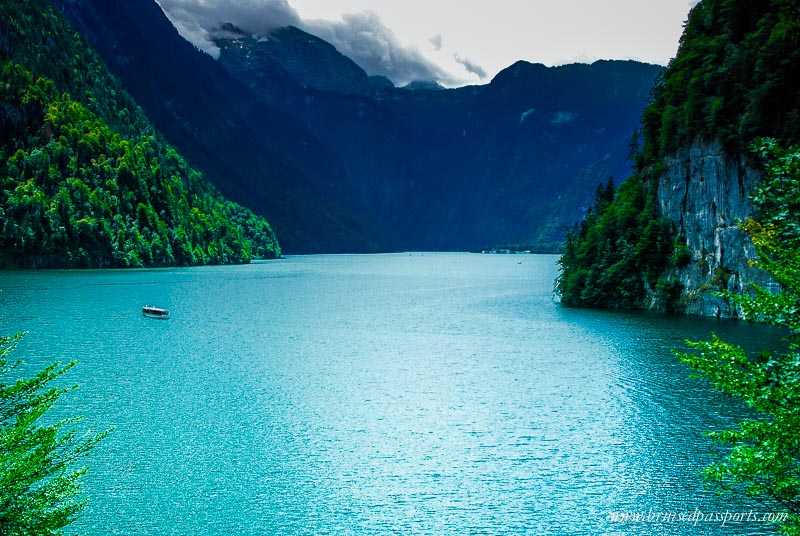 Germany Road Trip Itinerary
Day 1: Fly to Munich or Memmingen and pick up rental car
Day 2: Explore Munich
Day 3: The Dachau Concentration Camp
Day 4: Fussen and Neuschenwenstein castle
Day 5: Ettal abbey, Oberammergau, Garmisch Partenkirchen
Day 6: Partnach Gorge
Day 7: Linderhof castle, Plansee, and Karwendelbahn
Day 8: Walchensee & drive to Unterwossen
Day 9: Ice caves in Werfen & Chiemsee
Day 10: Day trip to Salzburg, Austria
Day 11: Drive back to Memmingen / Munich and fly to London
Total Distance Covered
1100 kms
Where to sleep
1-2 nights in Munich
5 nights in Ettal
3 nights in Unterwossen
Day 1 and Day 2 – Munich
Begin your epic road trip in Germany by flying into Munich. If you've opted for a flight on a European budget airline, chances are your flight will land at Memmingen airport, 100 kms away from Munich. Pick up your rental car and drive to Munich. German Autobahns are (in)famous for being one of the rare motorways without any speed limits for cars. This is a good time to get accustomed to errr combative German drivers on the Autobahn. Try opting for a hotel or B&B on the outskirts of Munich unless you are willing to pay extortionate parking charges in the city. We stayed at Hotel Grunwald Garni.
Over the next day and a half, explore the sights and sounds of Munich. Some of our favourite things to do include visiting the Viktualienmarkt, a farmers' market that is a daily fixture in the city centre. It's the perfect place to sample Bavarian treats such as Bratuwurst (sausage) and Leberkase (meat loaf). We also love the Hofbrauhaus, Munich's legendary beer hall, for the wide array of German beer (and food!) on offer. We discovered Hofbrauhaus, thanks to Monarch's tips map and it lives up to its name as a true-blue German drinking establishment.
Day 3: Dachau Concentration Camp and drive to Ettal
Start the day early and head to The Dachau Concentration Camp for a somber lesson in world history. This concentration camp held tens of thousands of prisoners (jews, homosexuals, communists), who were then murdered here. We're written a whole article on our crazy experience at The Dachau Concentration Camp and we would highly recommend a visit.
It's easy to spend the better part of the day at this nightmarish complex. Once you're done, drive to picture-perfect Ettal, which will be your home for the next 4-5 nights. We stayed at the picturesque Hotel Blaue Gams overlooking the Ettal Abbey and paid £50 per night for a double room including breakfast. You can find the best prices here
Read our article on The Dachau Concentration Camp here (opens in a new tab)
Day 4: Fussen and Neuschwanstein Castle
You will realise you've left urbanity far behind when you wake up and glance at the view from your balcony. There are rolling hills, pastures, and traditional Bavarian houses overflowing with flowers as far as the eye can see. According to us, this is the precise moment when the German state of Bavaria starts casting its spell on visitors.
Drive down to Fussen, a gorgeous town surrounded by the Alps. Fussen is just 5 kms away from the Austrian border and is straight out of a fairy tale. Spend this day exploring the legendary Neuschwanstein Castle nearby – it is the castle that is said to have inspired Walt Disney. One glance at it, and you can see why. The castle is surrounded by lush mountains and gorges and its spires reach out to the sky. You almost expect a Rapunzel or Cinderella to peek out of one of the ornamental windows.
Neuschwanstein Castle  is one of the most popular castles in Germany, so its best to get there early to avoid the crowds. Most guidebooks suggest walking to the Marienbrucke Bridge for a good view of the entire castle but if you want an absolutely breathtaking view, continue walking after the Marienbrucke bridge till you reach the highest vantage point in the area. This is the view you will be rewarded with :-
Day 5: Ettal Abbey and Oberammergau
After you've repeated the whole getting-up-in-the-morning-and-standing-on-your-balcony-for-hours ritual, we suggest tearing yourself away from your quaint hotel in Ettal and walking to the neighbouring Ettal Abbey. This Benedictine monastery is absolutely stunning on the inside. What's more, it houses a brewery (it's Germany, you can never be too far from beer 😉 ). Try the locally-brewed beer or Ettal liqueurs made by the monks at Ettal Abbey.
Then onto our favourite village in the area – Oberammergau. As if it wasn't enough for Bavarian villages to seem like they belong in a fairy tale, they went ahead and painted the walls of all the houses in this village with fairy-tales by Brothers Grimm. Seriously! This Alpine Road Trip in Germany cannot get any better. Have lunch in Oberammergau and spend the afternoon marvelling at the houses and trying to decipher the tales on their walls.
Day 6: Partnach Gorge and Garmisch Partenkirchen
A relaxing day spent exploring Ettal and its surroundings needs to be followed by a bout of adventure. Partnach Gorge is one of the crazier natural wonders that we've visited. This 260 ft deep gorge has been cut into two by a river and it's actually possible to walk through it. There's water (waterfalls, streams, you name it!) everywhere, so make sure you wear a waterproof jacket and non-slippery shoes. You might have to crouch at certain points but its worth it. This is an experience like no other.
Partnach Gorge is also the gateway to a number of hikes in the area. Once you've crossed the gorge, you can choose a hike that suits your fitness level. This adventure needs to be followed with a lazy evening.
Spend the evening driving around the Garmisch Partenkirchen area. You'll spot beer gardens, tiny villages, sylvan country retreats, cows grazing on storybook pastures, and very few tourists. Make sure you sample a Bavarian platter, complete with pretzels, bratwursts,sauerkraut, potato salad, and leberkas. Yummy 🙂
A word of caution – the rustic nature of this area means there aren't too many vegetarian or international restaurants in the area. If you, like us, enjoy sampling local food, then you're in for a treat. But if you have dietary restrictions or you're craving non-Bavarian food, then you might have to look for a supermarket.
Day 7: Linderhof castle, Plansee, and Karwendelbahn
Walking into the ostentatious and preened grounds of Linderhof Castle is akin to walking into a fairy tale. This is King Ludwig's smallest palace. It's nowhere near as crowded as Neuschwanstein Castle and that makes it endlessly charming.
You could spend the afternoon picnicking at neighbouring Alpine lake Plansee – the lake is in Austria and is less than 20 minutes away from the Linderhof Castle. The glistening green-blue waters, characteristic of all Alpine lakes, offer a peaceful retreat.
Don't leave the area without going on a cable car ride near Mittenwald -Zugzpiste is the most popular one but it is invariably crowded (and overpriced!). We love Karwendelbahn – a near vertical cable car ride leads visitors to the top of one of the highest mountains in the area. We were the only ones at the time we visited and we had the whole mountain to ourselves, with a giant telescope for company. The view from the top just cannot be described in words – one can see the Alps across Austria, Germany, Italy, and Switzerland. It is definitely a once-in-a-lifetime moment, one you won't forget for years to come.
Day 8 : Walchensee & drive to Unterwossen
After experiencing everything from gorges and Alpine lakes to picturesque villages and monasteries, it's time to leave Ettal and drive further east to Unterwossen. This is one of the most scenic and romantic drives in the world and the scenery needs to be seen to be believed. Make sure you stop at one of Germany's deepest and largest Alpine lakes, Walchensee, on your way to Unterwossen. The lake is nestled in the Alps and the grandiose setting provides a perfect excuse for a long-drawn meal or coffee and kuchen (cake) at a cafe overlooking the lake.
Check in at your hotel/B&B in Unterwossen and prepare yourself for an otherworldly adventure the next day. We spent 4 nights at the gorgeous Hotel-Gasthof Sonnenbichl and paid £45 per night for a double room including breakfast. You can check here for prices.
Day 9: Ice caves in Werfen & Chiemsee
Drive to the ice-caves in Werfen, Austria. Once you've parked your car, trek uphill for 20 minutes to the cable car, take the cable car to the top of the mountain, and walk for another 20 minutes. Soon you will see caves looming in the distance. This is the entrance to the world's largest ice-caves. Aah – get ready to enter a world that seems like it doesn't belong to planet Earth.
Visitors can explore upto 1 km of these caves with a guide. Inside, there are giant icicles, stalactites, stalagmites, and naturally-occurring ice-sculptures that will leave you spell bound. It's hard to take photos inside the caves but these pictures should give you an idea of what lies inside the labyrinthine ice-caves of Werfen.
On your way back, stop by at Chiemsee, a freshwater-lake in Southern Germany.
Day 10: Day trip to Salzburg, Austria
The achingly perfect landscapes, lakes, and mountain passes on this road trip of Germany and Austria can be overwhelming. How is one to drink up all this beauty all at once? If you're an urban bunny and you're missing large cities, then hop over to Salzburg for a quick day trip. Just make sure you park your car at one of the park-and-ride parking lots outside the city. Else you will spend the day looking for parking spots or being stuck in traffic jams in Salzburg.
Once you're in Salzburg, walk around and absorb the atmosphere. If you're a Sound of Music fan, then you'll know what to do even before you get there. Visit Mozart's birthplace, explore the Hohensalzburg Fortress, or just spend your time marvelling at the old shops or stocking up on supplies at Getreidegasse and Alter Markt Square.
Day 11: Drive back to Memmingen / Munich and fly to London
Spend the last day driving back on the roads you would've grown to love in the past couple of weeks. You will drive past dozens of Bavarian villages. Try spotting the Bavarian Maibaum (Maypole), a constant fixture in most villages. It's a tall pole depicting various rituals and traditions of Bavarian life. In a few hours, you'll hit the Autobahn – crank up the speed and enjoy the last few hours of driving without speed limits. Do keep in mind that there are some stretches on the Autobahn where there ARE speed limits – so do keep an eye out for the signs 🙂
It's the end of the trip but we're sure this is a trip you'll remember for ages. This Alpine reverie offers panoramas which are as pretty as those you can find in Switzerland but at less than half the cost. This road trip of Germany and Austria offers cable car rides, picturesque panoramas, trekking opportunities, rustic German food and beer, and natural wonders by the dozen – it's calling out to you. What are you waiting for? 🙂
We hope that we have managed to tempt you to plan an amazing road trip through Bavaria in Germany. If you have any questions or would like to add something to this itinerary, drop us a comment below 🙂 And before you go, do check out some of the related articles:
Are you crazy about Road Trips too? Read about all our favourite road trips in one place 🙂
Do you know we shot an outfit post in a Bavarian forest  when we were in Ettal
Love Germany? Read all our posts on Germany here